Wilmington NC Attractions
One destination boasts a bounty of extraordinary experiences in the historic downtown river district of Wilmington, N.C., and on nearby beaches.  Proud of its rich history and with a fresh catch of beach vacation treasures, each is a place to spend time with family and friends in North Carolina's most accessible coastal destination.
Mild temperatures make for the perfect time to explore Wilmington's year-round museums, attractions like the Battleship NORTH CAROLINA, and miles of beaches. Enrich your artistic spirit through dynamic performances at one of the state's oldest arts institutions, Thalian Hall, as well as through 150 arts organizations from art galleries to dinner theatres, and performances from music to ballet, to the finest in domestic, independent and foreign films.
From savory seafood at restaurants with a water view to lively evening jazz concerts with all-star ensembles, Wilmington and our island beaches provide the perfect backdrop for a weekend getaway.
The Bellamy Mansion
Visit the Bellamy Mansion Museum, one of North Carolina's premier architectural and historic treasures, that offers tours, changing exhibitions on history and design arts, and an informative look at historic preservation in action.
Poplar Grove Plantation
One of the oldest existing peanut plantations in North Carolina , Poplar Grove Plantation was in the same family for over 6 generations. The Foys originally purchased the land in 1795 and kept it until the mid 1970's. The preserved homestead of a successful farming family, offers daily tours of the 1850 manor house, live craft demonstrations typical of 1800s working plantation, farm animals and exhibits.Spend a day exploring one of the oldest surviving peanut plantations in North Carolina. The plantation is home to fun events including a farmers market, cooking classes, field trips, plant sales, tours, an animal farm and so much more. Learn about the history of Poplar Grove and enjoy all kinds of family fun!
Cameron Art Museum
The Cameron Art Museum is committed to arts education and presents exhibitions and public programs of both historical and contemporary significance, with 6-8 changing exhibitions annually, in addition to outdoor, site-specific projects on its park property which includes a historic Civil War site. This 42,000-sq.-ft. state-of-the-art museum functions as a cultural gathering place and features two centuries of NC and US art boasting one of the world's major collections of the romantic color prints of Mary Cassatt (periodically on view). The Museum School at Cameron Art Museum offers ongoing classes for adults and youth, workshops and demonstrations, including ceramic arts at the Clay Studio, overseen by resident master artist Hiroshi Sueyoshi. The museum also presents lively, ongoing family and children's programs each month.
EUE/Screen Gems Studios
Affectionately called "Hollywood East" or Wilmywood", the Wilmington region ranks among the nation's top locations for film production. Since 1983, more than 400 projects have filmed here at Screen Gems Studios, including "One Tree Hill" , "Revolution" and "Iron Man 3." Tours are available. It's located at 1223 N. 23rd Street in Wilmington.
Greenfield Lake Amphitheater
The Hugh Morton Amphitheater at Greenfield Lake underwent a $1.2 million dollar renovation that includes an expanded cover for the stage, an adjoining stage house with shower and dressing facilities, new concession and restroom buildings and new landscaping. The venue is located at Greenfield Lake Park, holds 1,000 people and is handicapped accessible. The venue features several concerts and shows throughout the year.
www.greenfieldlakeamphitheater.com/
Airlie Gardens
Airlie Gardens is a 67-acre park that has attracted nationwide attention for it's breathtaking combination of formal gardens, unique wildlife, historic structures, walking trails, sculptures, views of nearby Bradley Creek, and more than 100,00 azaleas.  Airlie Gardens is also home to the 467 year-old Airlie Oak Tree.
Airlie Gardens hosts a myriad of events from concerts to it's famed Enchanted Airlie, where the garden is lit with thousands of lights for a spectacular display. Airlie Gardens is open year round.
Cape Fear Serpentarium
The Cape Fear Serpentarium is a unique facility located in the downtown district of historic Wilmington, NC. The Serpentarium is a 10,000 square foot structure which features 54 displays which house over 40 venomous species of snakes, 5 large bays with giant constrictors, and habitats housing 3 species of crocodile. Other displays are the homes for several large and exotic species of lizards. The Cape Fear Serpentarium is recognized as one of the world's foremost reptile collections.
https://www.capefearserpentarium.com/index.html
Battleship North Carolina
Step aboard the Battleship North Carolina and step back in time and let history come alive through the crews' stories. Open for tours all year round, this remarkable ship is docked in Wilmington. Go below deck and see the real living quarters, the controls, and even man the artillery!
Carolina Beach Boardwalk
Ranked one of the top 10 boardwalks in the country by Food & Wine magazine, a stroll on the Carolina Beach Boardwalk features classic seaside family fun with shops, restaurants and nightlife entertainment. The boardwalk and amusement park is open Memorial Day through Labor Day every year. This local spot has become a favorite landmark for both vacationers and residents alike, embodying the spirit of summer at the beach.
https://www.visitcarolinabeachnc.com/things-to-do/carolina-beach-boardwalk
Old Wilmington Ghost Walk
Come hear the dismal accounts behind our most unfortunate wretches and discover the poor lost souls that still linger in the Port City. Hear tales past and present, including the most recent encounters with these spirits. Stroll beneath a canopy of centuries old live oaks, their cryptic limbs dripping with Spanish moss, and hear tales of murder and mayhem. And if you dare, tread upon the unmarked graves of thieves, murderers and other less pitiful souls.
https://hauntedwilmington.com/ghost_walk.html
Wilmington Trolley Co. Tours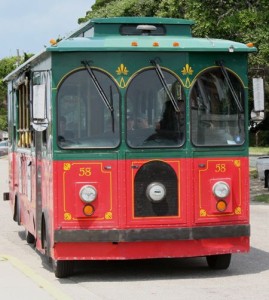 Jump on board a trolley and weave through the bumpy cobblestone streets and hear the stories of the homes, people, and events that make Wilmington the historical city it is. The 45-minute tours depart from Water Street between Market and Dock Streets.
https://wilmingtontrolley.com/tours.htm
Mayfaire Town Center
Mayfair Town Center offers the best in name brand shopping all within walking distance, great dining options, a movie theater, and so much more! Also, home to summer concerts and kids events, there's always something happening at Mayfaire!
Wilmington Hollywood East Location Walk
Join one of Hollywood East's most entertaining & self-important Directors on a name dropping, movie & TV extravaganza through one of America's largest living film sets; Wilmington, North Carolina! See real locations for some of Wilmywood's biggest movies & TV Shows.
https://hollywoodnc.com/hollywood_location_walk.html
Horse Drawn Carriage Tours- Springbrook Farms
Take a horse drawn carriage tour through downtown historic Wilmington NC and hear tales of the Old South. This charming tour will give you an up close look at the port city. Tours start on Market St. between Water and Front Streets.
https://horsedrawntours.com/index.html
Sea Turtle Camp
Sea Turtle Camp is a life enriching marine biology summer camp experience for all ages. Have you ever looked into the enchanting eyes of a living, breathing 200 pound sea turtle? Sea Turtle Camps offer a variety of programs designed to share this powerful experience with others, whether it is school groups, teen summer camps, travel programs, or adult retreats.
https://www.seaturtlecamp.com/
Wrightsville Beach Parasail Company
Want to soar over the Atlantic Ocean and see the sights from a whole new perspective? Then Wrightsville Beach Parasail Company is perfect for you! They've been in business since 1998 and sent over 5,000 people up in to the sky!
https://wrightsvilleparasail.com/
The North Carolina Aquarium at Fort Fisher
The North Carolina Aquarium at Fort Fisher attracts thousands of visitors each year. This outstanding attraction is deservedly one of the most popular in the area. Featuring a 235,000-gallon saltwater tank, the aquarium showcases both fresh water and salt water aquatic life. The focal point of the Aquarium is the Cape Fear Shoals exhibit. The huge, two-story tank displays a vast array of sea life including moray eels, stingrays, sharks and grouper plus a multitude of other varieties of sea life. At feeding time, divers underwater answer questions from the audience as they feed the fish. There are more than 2,500 sea creatures are on display at the North Carolina Aquarium at Fort Fisher.
https://www.ncaquariums.com/fort-fisher