Wilmington NC Dining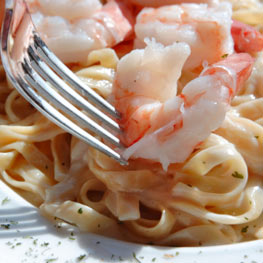 Part of the joy of being on vacation is getting a break from the kitchen! No matter what you are craving Wilmington NC Dining can satisfy both your taste buds and your budget.
Be sure to sample some of our fabulous and fresh local seafood while you are here – there are several great seafood restaurants to choose from.
Here are just a few listings for great area restaurants!
---
Located in Historic Downtown, the Front Street Brewery is Wilmington's only Restaurant & Brewery. Our staff takes pride in offering great food and micro brews at a great price. Our menu is extensive with over 25 gourmet sandwiches and burgers and over 35 entrees to choose from, plus a great Kids Menu!
---
Fat Tony's is a pizza, pub and Italian restaurant in Historic Downtown Wilmington. They offer outside seating and delivery.
---
Enjoy the "dock and dine" at George on The Riverwalk- The menu offers Southern Coastal cuisine featuring fresh local seafood, steaks, pasta, salads, desserts and our Chef's daily specialties. Serving Lunch & Dinner, Kid's Menu, and Vegetarian Varieties with premier sunset viewing on the river. And don't forget to try Wilmington's best kept secret for Sunday Brunch.
—————————————————————-
Elijah's is a casual American Grill and Oyster bar. The building which houses Elijah's was originally a maritime museum. Many of the rare paintings, ship models, and nautical artifacts remain on display in the restaurant today. Elijahs was founded in 1984 and the Oyster Bar with its outdoor patio opened in 1988. We hope you enjoy your dining experience with us and come back soon.
——————————————————————
—————————————————
P.T.'s Olde Fashioned Grille has consistently won "Best Burger" in Encore Magazine's annual poll. Eat inside or on the patio and enjoy tasty affordable sandwiches and salads in a relaxed, comfortable atmosphere. P.T.'s Grille serves up the freshest, highest quality ingredients -Our Certified Angus burgers and other meats are never frozen, the french fries are fresh-cut daily and each cup of lemonade is individually fresh-squeezed.
——————————————————————-
Besides being a warm, down-home style restaurant with great food, Salt Works is also a tribute to the local people and traditions who provided a very necessary item all the way back to the 17th century-SALT!
——————————————————-
Our pizza is cooked with fresh ingredients on a flavorful crispy crust that our customers have come to know and crave. In the mood for something else? Try some of our other menu items-nachos, homemade soup, quesadillas, and fresh salads. Slice offers a welcoming, casual and fun environment with delicious food, making it a favorite hangout for locals and visitors alike. With three locations in Wilmington, customers can grab carryout or choose to dine in.
————————————————————-
Kilwin's Chocolates, Fudge & Ice Cream
From the moment you walk in the door your senses will be enticed with the warm sweet aroma of chocolate, fudge, and fresh homemade waffle cones. We hand craft a wide variety of candies and other confections right in our candy kitchen. Watch as our homemade products are produced in the store right before your eyes.- And don't forget to try our Original Recipe ice cream which is always a favorite.